Bowness and Windermere - A Fairtrade Town.
This and subsequent pages have been produced on behalf of the Windermere and Bowness Fairtrade Group as part of the Windermere & Bowness Chamber of Trade's commitment to community information.
The Windermere and Bowness Chamber of Trade are indebted to the Fairtrade Group for supplying the information for this page.
---
Fairtrade Shopping Bags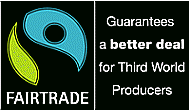 Members of the Windermere & Bowness Fairtrade Group, pictured below, with Paul Liddell (Managing Director) at Lakelovers. The group would like to thank Lakelovers Self Catering for generously sponsoring the Fairtrade Shopping Bags.
Five hundred jute shopping bags bearing the Fairtrade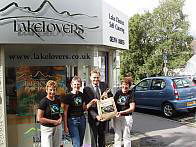 logo and the words "Windermere & Bowness Fairtrade Town" arrived at the end of July and are on sale in many local retail outlets and TIC's. The bags are produced through CORR, a woman's' non profit making handicraft, marketing and exporting trust in Bangladesh. Buying the bags, which are on sale for Ł5 can help give social and economic dignity to disadvantaged and neglected people in Bangladesh as well as supporting the environment and creating an awareness of Fairtrade in the town.
The Fairtrade Group would also wish to thank Cumbrian Cottages and the Lake District Nation Park Sustainability Fund for their sponsorship.
These bags have now been sold out.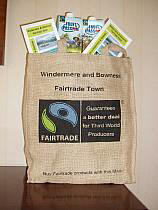 Jenny Baker said "We would like to thank Lakelovers for their generous donation which enabled us to purchase the bags and produce the directories."
---
Fairtrade in Bowness and Windermere
---