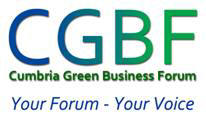 Dear Barry
Thank you for the time that you spent talking to us at the recent LHA show, it was very useful to us to get feedback on what other businesses view as the key issues affecting them at present.
CGBF was launched a little over one year ago and we have much to celebrate – growing membership across Cumbria, successful campaigns and seminars, improved business support, a dynamic website and a member's forum for sharing best practice, exchanging information and building networks.
CGBF really is your forum – your voice. We have established excellent working relations with all the key service providers and policy-makers in Cumbria and actively campaign for better environmental facilities for the business community across the County.
We have achieved much in our first year but there is so much more to do. The threat of global warming and climate change is very real and we need to do more to tackle those environmental issues that impact on your business performance. Through the combined strength of our members, CGBF will continue campaigning for green business solutions that protect the environment and ensures sustainable growth in Cumbria, for the long term.
Your support and membership in 2009 could contribute to CGBF's success. Help us build capacity and momentum by joining, at a cost for 2009 of just Ł30.
CGBF Campaigns and activities round up for 2008:
Committee meetings – over the course on one year our CGBF 10-member committee has held 16 meetings
Lakes Hospitality Show – CGBF Exhibition
LDNPA – CGBF invited to respond to the Local Development Plan response
World Federations for Environmental Education (FEE) Assembly – CGBF invitation to give presentation
Seminars – regularly attracting over 80 members and guests
Waste, Re-use and Recycling and Procurement

Reduce your energy bills and your Carbon Footprint

Renewable Energy works

Staveley event, part of Green Build fortnight: Beer, Bikes, Bread and Beaujolais

Reducing Waste and Saving Money
CGBF Representation on Regional Committees:
Low Carbon Lakeland

Cumbria Strategic Partnership

Cumbria Renewable Energy Panel

Cumbria Tourism

Lake Windermere Renewal
Contacts and partners:
Cumbria Vision

BEN

Cumbria County Council

The Friends of the Lake District

National Trust

Tourism & Conservation Partnership

Cumbria Wildlife Trust

The Green Tourism Business Scheme

Encams
Media - CGBF has proved particularly good at getting the message across to the media and has been represented on TV, Radio and most local newspapers and magazines in Cumbria.
We hope that you will consider joining CGBF, if you have any questions, please do not hesitate to contact me.
Kind regards
Rodger Woodroffe
Secretary
CGBF