Leaflets | Love Your Lakes | Reports | What's Watt!
---
At a Chamber of Trade meeting held on the 6th January 2009 it was decided by the membership present that the entire membership should be asked if they would support the idea of Windermere and Bowness becoming an Eco-friendly town.
The then Chair Barry Butler, offered to put together a paper outlining the thoughts of those present and asking for further contributions, ideas, information etc from the community at large. The Chamber of Trade are happy to report that Lakeland Radio threw their 'weight' behind these proposals by advertising them in their News programmes.
The paper put together by Barry Butler can be accessed by clicking on the link below.
To submit your ideas, comments, suggestions etc, please click here.
---
Cumbria Business Environment Network (CBEN)
CREA ceased trading in July 2015. The environmental services offered by CBEN are still continuing but under CBEN Partnership LLP.
Details on CBEN can be found at www.cben.co.uk
Postal address: CBEN Partnership LLP, 74 St James Road, Carlisle, CA2 5PD
Tel: 01228 549602

---
The following leaflets and reports are brought to you by the courtesy of the Charted Management Institute to whom the Windermere & Bowness Chamber of Trade acknowledges their use.
---
Love Your Lakes works in partnership with Windermere Reflections to improve water quality in Lake Windermere and the surrounding catchment lakes. We're helping local businesses, residents and visitors to take simple steps to reduce the use of phosphate. By reducing the amount of damaging phosphates entering the lakes we can all do our bit to protect the future of one of Lakeland's most beautiful destinations.
Love Your Lakes is delivered by Nurture Lakeland, a charity based in Staveley.
---
The Chamber of Trade are able to help you calculate potential cost of your energy bills. By clicking here you will be redirected to a spreadsheet into which you can input your own data.
This Spreadsheet is compiled by Steve Holcroft.
The Windermere & Bowness Chamber of Trade does not accept liability as to the accuracy of the calculations.
---
Below are members of the Chamber of Trade who have won awards for being eco-friendly.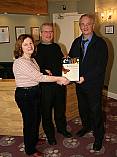 Tony & Liz Blaney - Fairfield Guest House - being presented with their CBEN Bronze Award by Gary Mortimer - CREA
Badger Press - Longlands, Bowness