Bowness and Windermere - A Fairtrade Town.
This and subsequent pages have been produced on behalf of the Windermere and Bowness Fairtrade Group as part of the Windermere & Bowness Chamber of Trade's commitment to community information.
The Windermere and Bowness Chamber of Trade are indebted to the Fairtrade Group for supplying the information for this page.
Activities | Cafes | Guest Houses | Hotels | Looking to The Future | Others
Restaurants | Shops | Tourist Attractions | Wholesalers
---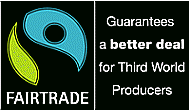 Windermere and Bowness became a Fairtrade Town in January 2005, when the Windermere Town Council passed the appropriate resolution confirming its status. On the 8th January 2007, the Windermere and Bowness Chamber of Trade agreed to add its support to Fairtrade within the business community.
Fairtrade is a way of trading which enables producers in developing countries to sell their products at a price that helps them to work their way out of poverty. The Fairtrade system guarantees them a decent wage, safe working practices, environmental improvements and an ability to invest in community projects such as healthcare, school resources or a clean water supply.
Fairtrade products are guaranteed to comply with internationally agreed Fairtrade standards and are regularly monitored. There are currently around 1,600 different Fairtrade products to choose from:
tea, coffee, cocoa and chocolate are widely available and probably best know,

but also look out for jams, marmalades and spreads,

fruits such as bananas, oranges, mangoes, pineapples and apples,

dried fruit, nuts and wine,

rice, pasta, muesli, sweets, fruit juices, snack bars, biscuits .... and many more.
Should you be interested in providing Fairtrade goods, then please contact the wholesalers listed below.
Further information about the Windermere & Bowness Fairtrade Group please contact;
---
During September 2013 in order to celebrate getting the Fairtrade status renewed members of the group cleaned the 'Welcome to Windermere' town signs at the gateways into the town as a thank you to the town council and the community for their support.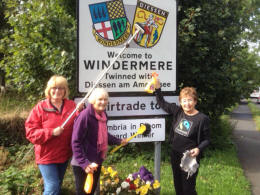 ---
---
Hotels Serving Some Fairtrade Products
| | | |
| --- | --- | --- |
| Applegarth | Windermere | 015394 43206 |
| Beech Hill | Windermere | 015394 42137 |
| Briery Wood Country House | Ambleside | 015394 33316 |
| Broadoaks Country Hotel | Troutbeck | 015394 45566 |
| Cedar Manor | Windermere | 015394 43192 |
| Cragwood Country Manor | Windermere | 015394 88177 |
| Craig Manor | Bowness | 015394 88877 |
| Ellerthwaite Lodge | Windermere | 015394 45115 |
| English Lakes Hotels | Windermere | 015394 39300 |
| Fayrer Garden | Bowness | 015394 88194 |
| Greywalls Hotel | Windermere | 015394 42662 |
| Holbeck Ghyll | Troutbeck | 015394 32375 |
| Hydro Hotel Bar | Bowness | 015394 44455 |
| Lindeth Howe | Bowness | 015394 45759 |
| Merewood Country House | Windermere | 015394 46484 |
| Storrs Hall | Bowness | 015394 47111 |
| Miller Howe | Bowness | 015394 42536 |
| The New Windermere Boutique Hotel | Windermere | T.B.C |
| The Old England | Bowness | 0870 4008130 |
| The Waverley | Windermere | 015394 45026 |
| The White Lodge | Bowness | 015394 43624 |
| Windermere Manor | Windermere | T.B.C. |
Guest Houses Serving Some Fairtrade Products
| | | |
| --- | --- | --- |
| The Boundary | Windermere | 015394 48978 |
| Cambridge House | Windermere | 015394 43846 |
| Cranleigh Guest House | Bowness | 015394 43293 |
| Crompton House | Windermere | 015394 43020 |
| Elim Lodge | Bowness | 015394 47299 |
| Fairfield Garden | Bowness | 015394 46565 |
| Fir Trees | Windermere | 015394 42272 |
| Glencree | Windermere | 015394 45822 |
| Green Gables | Windermere | 015394 43886 |
| Haisthorpe House | Windermere | 015394 43445 |
| Hilton House | Windermere | 015394 43934 |
| Holly Lodge | Windermere | 015394 43873 |
| Holly-Wood Guest House | Windermere | 015394 42219 |
| Howbeck. The | Windermere | 015394 44739 |
| Ivy Bank | Windermere | 015394 42601 |
| Ivythwaite Lodge | Windermere | 015394 88914 |
| Kays Cottage | Windermere | 015394 44146 |
| Laurel Cottage | Bowness | 015394 45594 |
| Meadfoot | Windermere | 015394 42610 |
| Melbourne Guest House | Bowness | T.B.C. |
| Millbeck | Windermere | T.B.C. |
| Orrest Head House | Windermere | 015394 44315 |
| Rosemont | Windermere | 015394 43739 |
| St. John's Lodge | Windermere | 015394 43078 |
| The Coppice | Windermere | 015394 88501 |
| Willowsmere | Windermere | 015394 43575 |
| Windermere Centre, The | Windermere | 015394 44574 |
| Windermere Suites | Windermere | 015394 44739 |
| | | |
| --- | --- | --- |
| Booths Supermarket | Windermere | 015394 46114 |
| Butterworth's - The Deli | Bowness | 015394 43119 |
| Co-operative Store | Windermere | 015394 43021 |
| Co-operative Store | Bowness | 015394 43021 |
| Gregg's | Windermere | 015394 42060 |
| Manuka Health Food Store | Bowness | 015394 48941 |
| Windermere Wine Store | Windermere | 015394 33001 |
Local Wholesalers Supplying Fairtrade Goods
| | | |
| --- | --- | --- |
| Caterite | Cockermouth | 017687 76000 |
| The Fairground | Staveley | 01539 822823 |
| J. Farrer & Co | Kendal | 01539 720020 |
| Four Seasons Foods | Kendal | 01539 720020 |
| Lakeland Vintners | Ings | 01539 821999 |
| W McClure Ltd | Windermere | 015394 42636 |
| Windermere Wine Store | Windermere | 015394 33001 |
Cafes & Restaurants Serving Some Fairtrade Products
| | | |
| --- | --- | --- |
| Aunty Val's Tea Rooms | Bowness | 015394 88211 |
| Costa Coffee | Bowness | T.B.C. |
| Coffee Bar 7 | Windermere | T.B.C. |
| Jerichos at the Waverley | Windermere | 015394 42522 |
| Jintana Thai Restaurant | Bowness | 015394 45002 |
| Lamplighter | Windermere | 015394 43547 |
| Lazy Daisy's Lakeland Kitchen | Windermere | 015394 43877 |
| Mela Indian Restaurant | Bowness | T.B.C. |
| Rambla Bistro | Windermere | T.B.C. |
| Renoirs | Windermere | 015394 44863 |
| Rumours | Bowness | 015394 44382 |
| St. Martin's Coffee House | Bowness | 015394 46404 |
| The White House | Bowness | 015394 44803 |
Tourist Attractions Serving Some Fairtrade Products
| | | |
| --- | --- | --- |
| Brockhole National Park Centre | Windermere | 015394 46601 |
| World of Beatrix Potter - Tailor of Gloucester Cafe | Bowness | 015394 88444 |
Fairtrade Used In The Workplace
| | | |
| --- | --- | --- |
| Cumberland Building Society | Windermere | |
| Yorkshire Building Society | Windermere | |
Alexandra Court
Bowness & Windermere Tourist Information Centres
Churches Together in Bowness and Windermere
Gatesbield Quaker Housing Association Ltd
Inner Wheel Club of Windermere
Lakelovers Holiday Cottages
Local Schools
The Marchesi Centre
National Trust North West
Rotary Club of Windermere
Soroptomists
Stonecraft Designs
'Welcome to Lakeland' Tourist Information Brochures
Windermere & Bowness Chamber of Trade
Windermere Lions
Windermere & Staveley District Neighbourhood Forum
Windermere Town Council
W.I.'s
YHA Troutbeck
Top of Page | Site Map | Archives