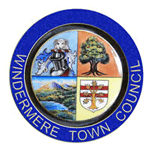 WINDERMERE TOWN COUNCIL
Windermere In Bloom Competition
Each year, the Windermere Town Council holds a "Windermere In Bloom Competition" which is open to all businesses, private dwellings, and Community Amenities within the Parish of Windermere. This competition enables businesses and private households to show off their horticultural skills, not only for their own enjoyment, but also to make the area more enjoyable for the holidaymaker and the locals.
By clicking on 2018 Trophy Winners you will see the various trophy recipients.
The hanging baskets that are attached to various lamp-posts throughout the village were done by Continental Landscapes of Kendal. A number of the displays are sponsored by local businesses. The Windermere and Bowness Chamber of Trade is encouraging local businesses to sponsor some of the hanging baskets. It is hoped that the number of sponsors will increase year on year. The number of hanging baskets have been reduced in favour of 'splashes' of colour at strategic points within the area. These are along the railings at the entrance to the Railway Station, along the A591 opposite the NatWest Bank, the Baddeley Clock and Bowness Bay and Promenade.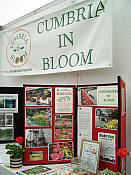 Windermere & Bowness were not entered into the Cumbria In Bloom competition for 2016, 2017 or 2018.
The judging for Windermere In Bloom of the various categories is carried out during the month of August by members of the Council, the public and invited guests. These judges have a wealth of horticultural knowledge and expertise.
The winners and their guests are invited to attend a "presentation evening" at one of the leading local hotels where they receive their Gold, Silver or Bronze awards. The Gold Award winners also receive a trophy which have been donated by many of the local trade associations, including the Chamber of Trade, and local businesses.
For further information on both competitions, please contact any member of the Windermere In Bloom Competition Advisory Group.
Back to Windermere Town Council | Back to Cumbria In Bloom
---
Some of the floral displays within Windermere & Bowness.
| | | |
| --- | --- | --- |
| Quarry Rigg Shopping Centre | Bowness Bay Promenade | Craig Walk |
| Sutherlands Restaurant | Edge Of The World | Fallbarrow |
| Windermere | Windermere | Bowness |
| Village Inn | Windermere | Greystone Cottage |
| Ellerthwaite Lodge Hotel | How Beck | Lonsdale Hotel |
| Anne Wilson's | Lake Road | Thornbarrow Road |
Windermere and Bowness are proud winners of a

and proud recipients of a

This site is hosted by